The Social Security and National Insurance, Trust (SSNIT) has sent an important reminder to it's members or contributors on the merging of SSNIT with NIA numbers.
According to the notice from SSNIT, all contributors are to merge their NIA numbers with SSNIT before Thursday, 30th June 2022.
The SSNIT and NIA numbers merger is simply a process to link SSNIT numbers of Members to their NIA numbers. The NIA number is the Personal ID Number on the Ghana Card. What this means is that your NIA number will become your SSNIT number after the merger.
According to SSNIT, there are three ways each person can do the merging. It can be done by walking to any SSNIT office around you and they will assist you to do it. Or, you can also dial the code *711*9# and follow the steps to do it or do it online from the website.
The procedure are:
1. Dial the code on your mobile phone
2. Select option 1
3. Enter your SSNIT Number
4. Enter your email address (if the phone number you are using is different from your phone number registered in our database)
5. Enter the Personal ID Number on your Ghana Card
6. Select option 1 to complete the merging of your SSNIT and the NIA numbers (Personal ID Number on your Ghana Card)
7. You will receive a notification after the like "dear merger, your SSNIT and NIA number have been successfully merged.
You can also check the merger status of your SSNIT and NIA numbers.
SSNIT is an agency of the government of Ghana. Its "job description", according to its website, is to administrate the National Pension Scheme. In so doing, the trust owns major amounts of stock in Ghana's principal companies, and is an important part of Ghana's economy.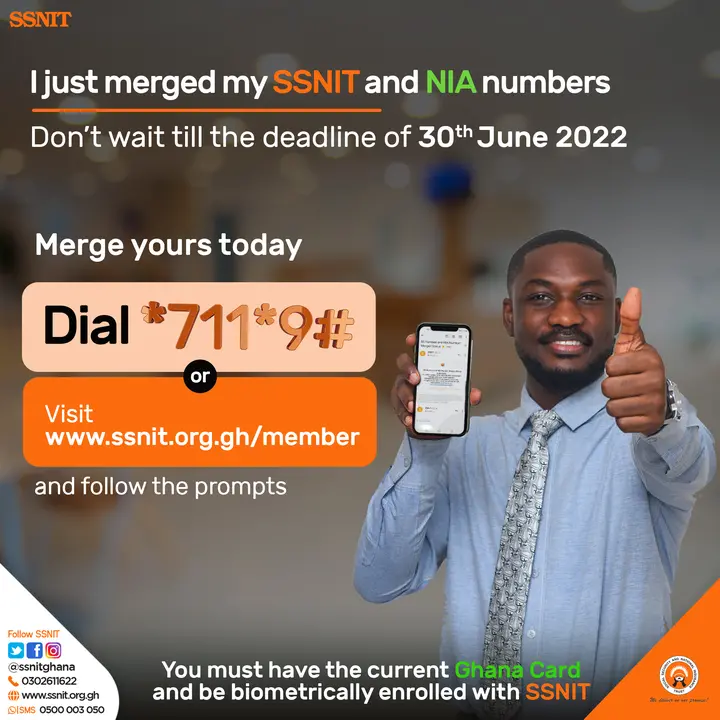 Source: Operanews