The Chief executive officer for Crime Check Foundation and Television has been hit with a very sad news. According to him, due to the intensity of the pain, he is doubting if he will live long.
Explaining himself on social media, Mr. Ibrahim Oppong Kwarteng explained that he has lost his dear wife. His sadness has been increasing when he realise that his wife left him alone and their four young boys.
Explaining the circumstances which led to the untimely death of Madam Meena, Mr. Ibrahim Oppong Kwarteng added that, she took ill for some time now. Although it was quite severe, his wife promised him physically that she will be fine. He also had a dream in which his wife appeared to tell him that she will be alright. Initially, his wife had narrated a dream to him that she had seen herself in the Heavens.
All these while, Mr. Ibrahim Oppong Kwarteng didn't know that his wife was journeying to the next world.
" I doubt if I'll live long. May the Almighty Allah strengthen me to bear this very heavy loss. I am broken. See you very soon my dearest wife " Mr. Kwarteng wrote on Facebook with a picture of his wife while in the hospital.
"See you very soon? Please don't do anything to yourself for the sake of the four boys. Let the will of Allah prevail naturally. Have my condolences" One Ustazz Jibril reacted to the words of Mr. Kwarteng's sad words.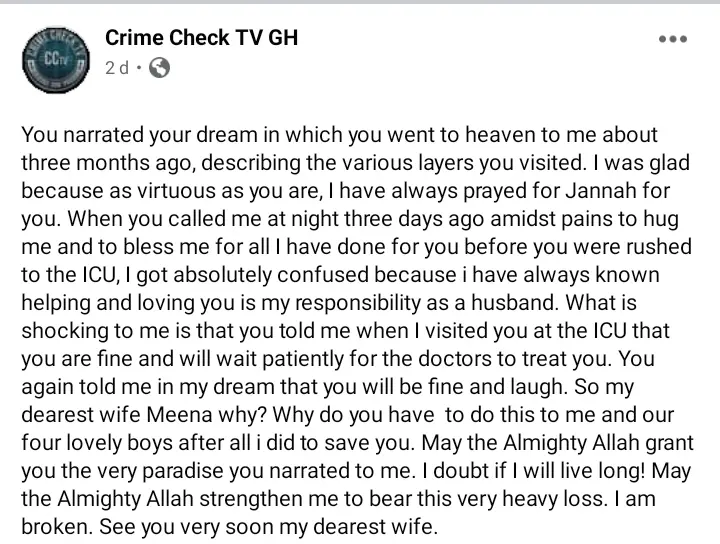 Source: Pensounds