Ghanaians massively react as President Nana Addo Dankwa Akufo-Addo, urged the global community to increase its efforts to help developing countries withstand the devastations caused by the deadly coronavirus pandemic and the war between Ukraine and Russia.
In a keynote speech delivered at the 15th Edition of the European Development Days (EDD) in Brussels, Belgium, President Akufo-Addo emphasized the need for the global community to increase efforts to help developing countries to safeguard their economies from the dire effects of COVID-19.
The President also pointed out that developing economies have had their plights further worsened by the raging Russian/Ukrainian conflict, a development, he said, is having a toll on only Ghana and Africa in particular but also many of the developing countries.
But Ghanaians in their attempt to disagree with the statement made by the President took to social media and made their voices heard through the comment section on Facebook.
Here's how Ghanaians massively reacted to the president's plea:
African leaders should stop begging and stealing. We can work our problems out if leaders think they do so much. Don't perpetuate the enslaved mentality.
• Whiles our leaders are still receiving huge sums of money as ex gratia, MPs and MCEs getting new V8 every time they start a new tenure. Ghana beyond aid is not real but a sham. And yet the president is not even ashamed of making this request. As if covid-19 only hits Africa.
• Help Africa?
Africa is helping the world, Africa is the source of help not the recipient of it. We don't need help from anyone. Mr. President, I would have mentioned a chain of reasons why Africa doesn't need help, but everyone knows this, and the whole world knows this.
• Ghana is not poor but poorly managed by an incompetent NPP government. I feel guilty every time the issues of this incompetence are raised. I voted for NPP because I believed they can help address the problems facing this country. Rather the problems and challenges have worsened because of incompetence, greed, and corruption.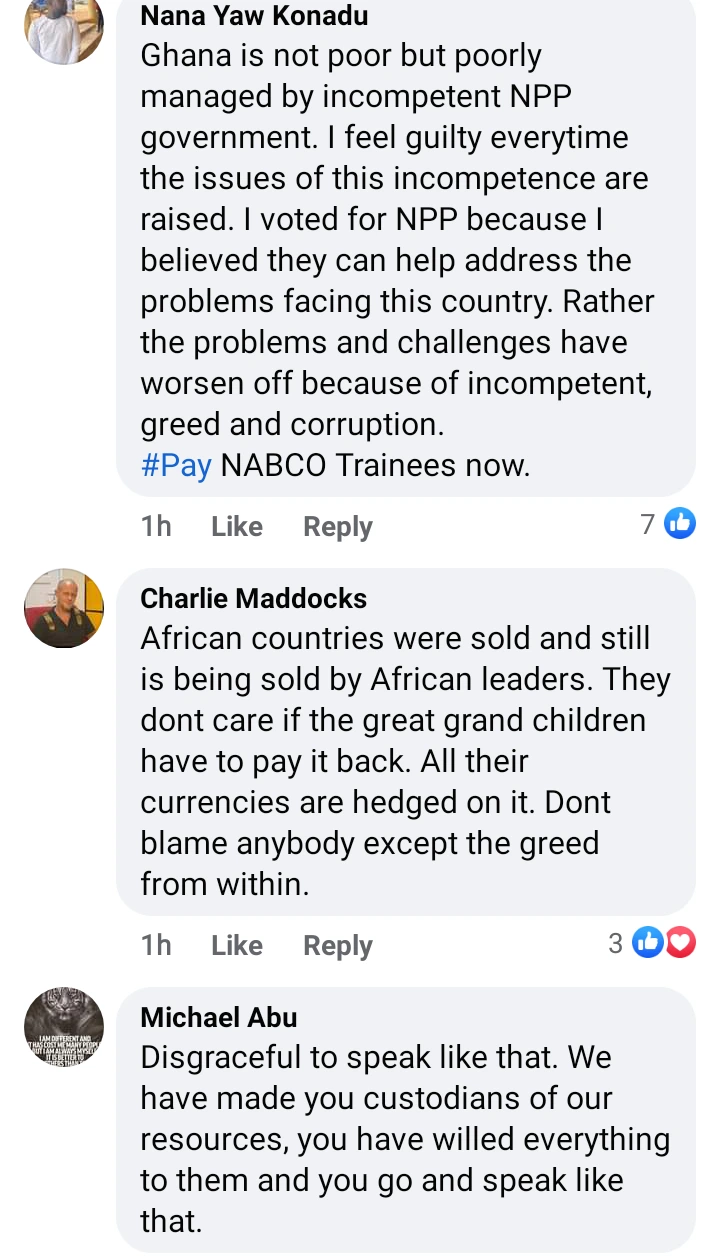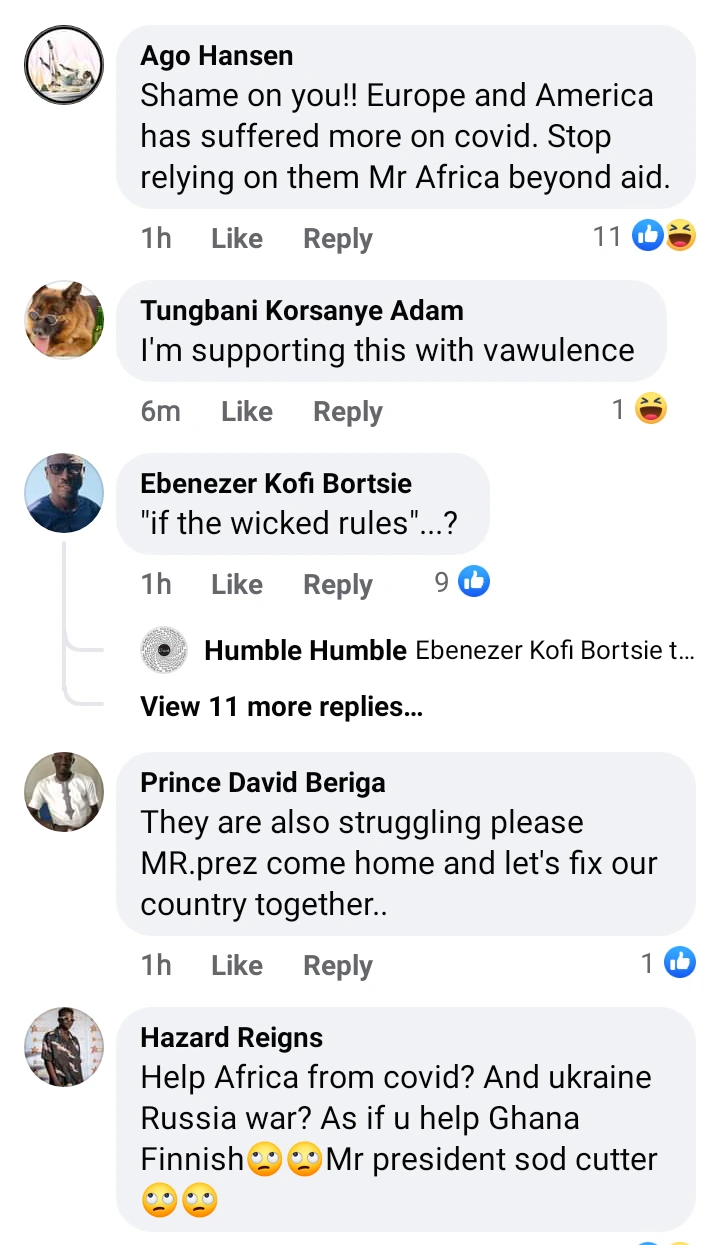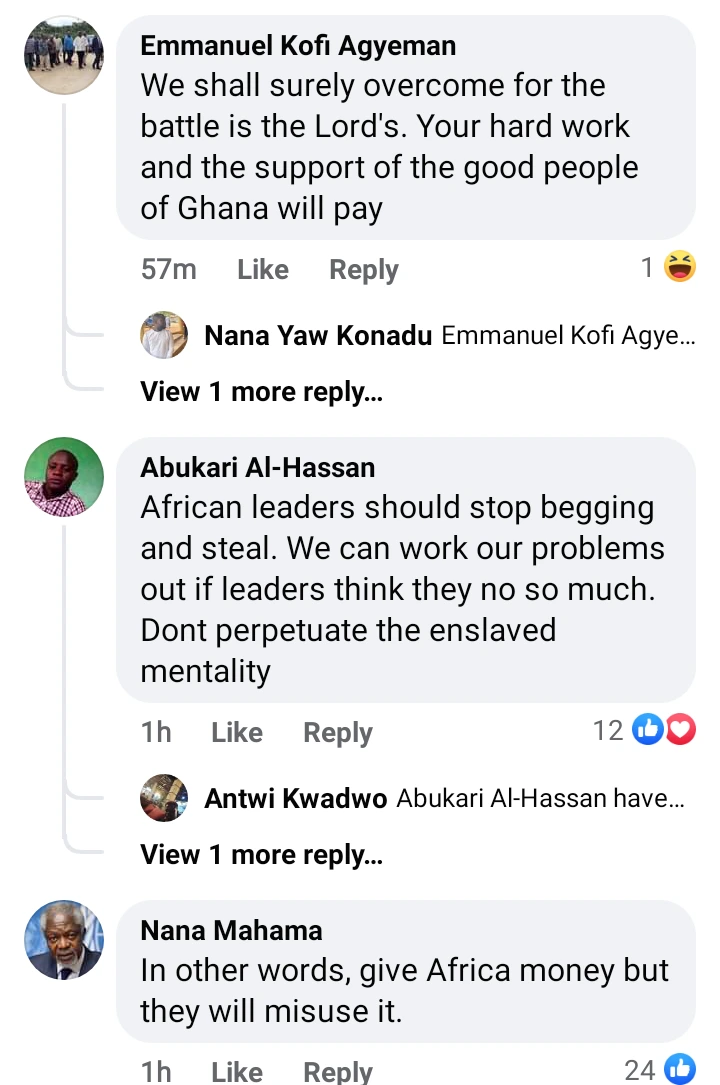 https://m.facebook.com/story.php?story_fbid=pfbid02wHbvMBV8sbTdgueU3htsTRLkwwuLc1ez5sdeq2RD7VsfQNUG4673mKGtQDJcdfPSl&id=100044199441327