The social security and national insurance trust whishes to inform the general public that due to a system upgrade, employers will not be able to pay SSNIT contribution of their employees through any of the partner Banks on Friday, 1st July, 2022. The SSNIT will not be available for business transaction from 1st to 3rd July, 2022.
Payment can however be made at any of the 51 SSNIT branches across the country with a valid payment advice.
Also payment of SSNIT contribution through the partner Banks and activities on the SSNIT portal will resume on 4th July, 2022.
Employers who generate their payment advice from 15th go 30th june, 2022 and are unable to make the corresponding payment by 1st July, 2022 should call the SSNIT contact center on 0302611622 or visit any SSNIT branch to have their payment advice re-generated for them.
This is to avoid challenges when making payments at any partner Banks. SSNIT Saturday service will also be suspended on 2nd July, 2022 and resume on 9th July, 2022.
Below is an attachment to the above information.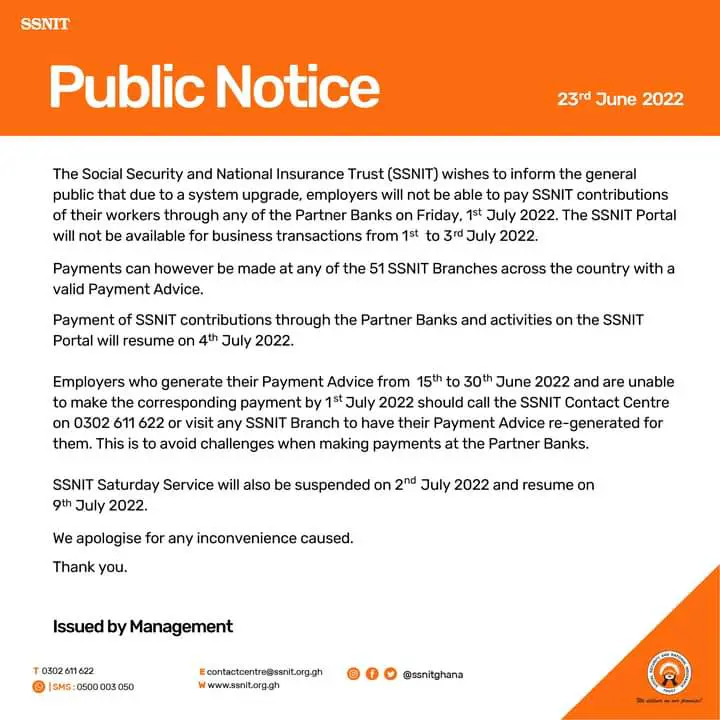 Source: Randasty