The member of Parliament for North Tongu constituency, Honorable Okudzeto Ablakwa is undoubtedly the best opposition MP in the country at the moment. He has been dropping several documents and evidences to prove his points on various "inappropriate" spendings by the Akuffo Addo led government.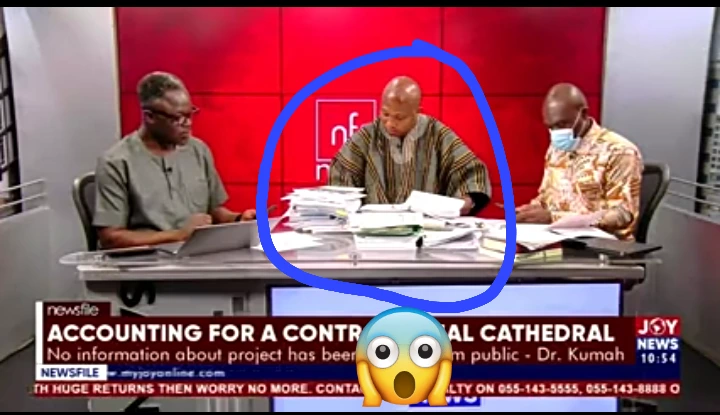 Okudzeto Ablakwa went to Newsfile show on Joy News this morning to continue his already started agenda of exposing "inappropriate" spendings of the NPP government. He went to the studio with piles of documents.
In his presentation, Okudzeto Ablakwa clearly revealed that the government is rushing to construct the "unwanted" national cathedral. He added that the opacity that has shrouded the activities of the government in relation to the construction cost and details has rendered the project unpopular even among Christians in the country.
He added that the government should come with better documents of the National Cathedral project so that people will embrace it because he will not support the idea of using the taxes of Ghanaians for such project.
Aside the issue of the National Cathedral project, Okudzeto Ablakwa also dropped some revelations about the just ended presentation by the Finance Minister in parliament. He showed some of his documents to prove that what the minister said does not tally with the SONA by the president. Okudzeto Ablakwa believes that the Akuffo Addo led government is not performing well as expected. He also believes that the rate of spending on things that will not be of benefit to its citizens is very high under this administration.
He is therefore urging the government to do the needful so that the sufferings and economic hardship in the country will be a thing of the past.
Click here watch his full presentation on Joy News.