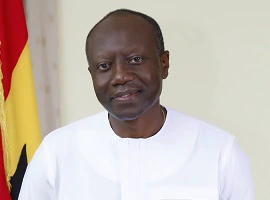 Pharmacist and CDD-Ghana Fellow, Kwame Sarpong Asiedu has challenged the Finance Minister to show Ghanaians where the remaining 13.5billion of the total COVID-19 funds that he did not account during his presentation is?
Dr Aseidu noted that if you listen to the finance minister's presentation and analyse it, it is clear that he accounted for less than 50% of the Covid-19 funds.
He again said a total of $25.68 billion was the amount Ken Ofori Atta said was received from his financial statement.
Nonetheless, the Finance Minister only provided evidence for $12.02 billion which he said was the actual Covid-19 expenditure.
He argued that if you do the subtraction, there is a remaining $13.5 billion unaccounted for.
Dr Aseidu also stressed that he can't understand why the finance minister provided accountability for less than 50% of the total money. He said "And if you've only accounted for 50% of what actually came in, the question I ask myself is 'why did the Finance Minister come to Parliament to account for less than 50% of what we actually got in for covid? Where is the account for the remaining 13billion
had to be spent on budgetary support.
But if you look, 25.68billion was what came in. That is money we're sure came in based on the government's own acceptance. And you can look at it, 19.3billion in 2020, and 6.39billion in 202.
Source:myjoyonlone.com